kangaroo island community education
KICE teachers are using the Australian Curriculum to plan, assess and report on student achievement across all subject areas. This is an exciting time because the Australian Curriculum gives teachers and students more consistent standards in all schools nationwide. The Australian Curriculum is structured into core learning areas, general capabilities and cross-curriculum priorities that aim to develop our students into 21st Century thinkers and learners.
You can support your child's education by familiarising yourself with the Australian Curriculum at www.australiancurriculum.edu.au to understand what your child is learning at each stage of their schooling. Check out any curriculum news, information and updates in the 'Curriculum Corner' of each KICE Newsletter.
Raising the Standards at KICE
(excerpt from "The Islander" article early 2015)
Often when we think of curriculum, we think of the learning areas and the content or "stuff" that children and students should know. However, our world is changing rapidly and the "stuff" we thought we knew ten years ago is often now out dated through advances in science and technology.
While there are still skills that our students need to be fluent in, we increasingly need to ensure that our students are able to problem solve, reason and show a depth of understanding of concepts in cross learning areas.
The implementation of the Australian Curriculum has provided KICE staff with the opportunity to think deeply about not only what we want our students to learn, but also how we want them to learn.
We have opportunities to create strategic shifts in the way our students are exposed to engaging, challenging and stimulating learning. We have made a commitment to raising the standards of teaching and learning on Kangaroo Island.
In 2016, KICE will maintain a strong focus on assessment and has thus committed to the Assessment for Educators course facilitated by the Institute of Educational Assessors (IEA).
The Assessment for Educators course is designed to support a whole-school commitment to reflecting on, evaluating and improving existing assessment practices. KICE is the first school outside the metropolitan area to take up this offer.
Learning Potential App for Parents
A new mobile app, enabling parents to become more involved in their child's education, is now available to download free on Apple and Android devices.
The app has been developed by the Australian Government's Department of Education, in consultation with ACARA and offers access to articles and informative videos, as well as practical tips and suggestions for parents of children from pre-primary to high school.
The app has tips and inspiring ways to get involved in your child's learning. Learning activities can fit into your daily routine, including driving to school or getting ready for dinner.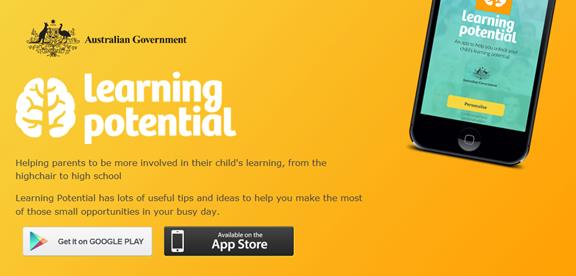 Check out the Learning Potential website to find out more